Spa Like Bedroom
To create a
spa-like
retreat in the master
bedroom,
you can duplicate some of the steps discussed for the bathroom. However, de-cluttering should be the first step. Hang up clothes, put dirty laundry in its place and clear off the dressers. Use as many candles as possible without creating a fire hazard. If your master bedroom is a large area, then purchasing pillar candles in glass containers is a god option. You wouldn't have to worry about the mess of burning wax and they store easily. Pillar candles can be found in any local department store and dollar stores. If you do purchase candles in bulk, make sure that they do not have an aroma that could overpower a room. Also, using music in a bedroom will add to a romantic mood.
Think about the purpose of the room before you choose a paint color. Warm colors are yellow, orange, red and some shades of browns. Cool colors are purple, blue and green. Warm colors are welcoming and inviting. They work well in kitchens and dining rooms; some paint experts even think that these colors will help make you hungry. Cool colors are calming and relaxing so they are perfect for bedrooms. You can even use cool colors to create a
spa like
feeling in the master
bedroom
.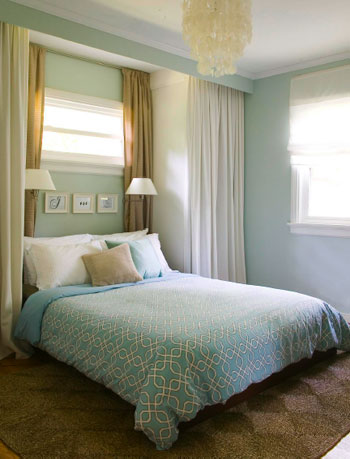 Spa Like Bedroom