Dead Sea Spa Hotel
The SALT LAND VILLAGE is treatment resort, situated at (408 m) below sea level, the lowest spot on earth. The hotel is ideally located at about 408 meters under the sea level. It's one-hour drive from International airport and 45 minutes from the Capital (Amman). Heading from airport Highway the Dead Sea area is marked clearly and once you arrive to the Sea from the north, the Hotel can be seen immediately. This full range complex comprises a main building "
The Dead Sea SPA Hotel
", the bungalows and the Dead Sea Medical Center .The village is designed as a wide and open area with a free view of the sea and an impressive surrounding.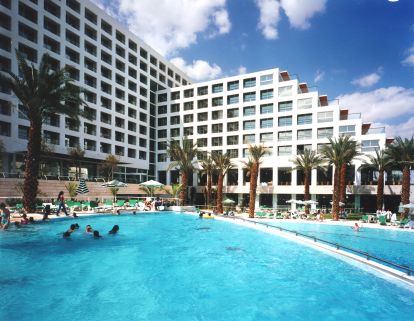 The Dead Sea
has special unique 'healing' qualities attributed to the fact that the water from this sea is only two thirds H20 (water). The rest is salt that is extraordinarily rich in minerals. Dead Sea therapies were first used for healing over two thousand years ago, so you can safely presume these treatments really do work!
This body of water has certain characteristics that exist nowhere else on this planet. It is the lowest place in the world at four meters below sea level. Dead Sea therapies take advantage of these mineral rich characteristics and are especially effective against skin diseases such as vitiligo, psoriasis and atopic dermatitis. It's also very good for arthritis and rheumatism.

Dead Sea Spa Hotel